4-H is easy to join and well worth the three easy steps!
1. Look through the club list at the bottom of the page and find a club that meets at a location, time and day of the month that is the most convenient for you. If you are having trouble deciding between a couple of clubs, contact the club leaders or the Rusk County Extension Office to find out more information about the club projects and activities that they participate in during the year.
2. Contact the leader of the club you would like to join. Let the leader know you are interested in attending their next club meeting and confirm the time and place.
3. Once you've found a club that best fits you and your families preferences you can begin the enrollment process in 4HOnline. If you are in need of help please contact the Extension office for help from staff or the 4-H Educator.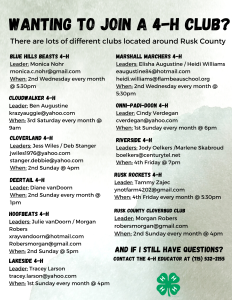 NEW ENROLLMENT:  To enroll in Wisconsin 4HOnline, you need a computer, internet access, a valid e-mail address and a web browser. Go to http://wi.4honline.com. Click on "Don't have an account" and follow the instructions to begin entering your family information.  Confused about what projects you would like to enter?  Then check out our Available Projects for some ideas.
See the Family Enrollment Guide below for step-to-step instructions if you are have trouble signing up. **This is a great resource that provides you with step by step instructions that include pictures of what your screen should look like as you advance through the sign up process.** Instructions for how to enroll through 4HOnline can be be found here:  Family Enrollment Guide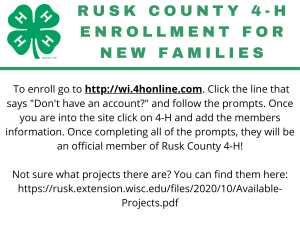 Congratulations! You are now a Rusk County 4-H member!
RE-ENROLLMENT:  To re-enroll go to http://wi.4honline.com and enter your email address and password.  Click Sign-In.  Continue to Youth and Cloverbud Member Enrollment to re-enroll youth members, to Adult Enrollment to re-enroll Adult member or to Adding New Members to add new Family Members.  PLEASE do not create a new profile.  If you forgot your password, please click on the "Reset Password" link on the login page to receive an email with a link to set a new password.
Re-enrollment deadline is November 1st for 2022-2023 year.  New members can enroll anytime but must be enrolled by April 1st in order to show at the fair.
Rusk County 4-H Events Calendar